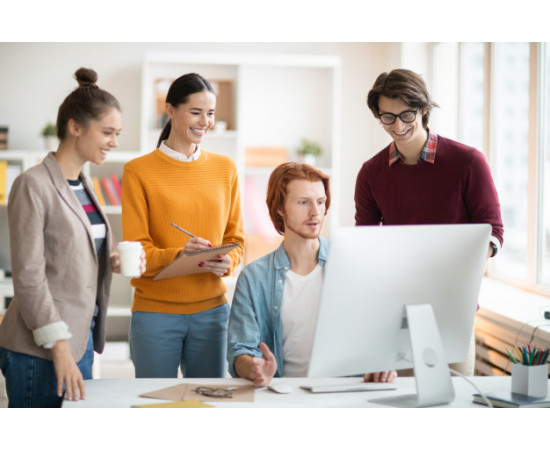 In today's digital age, business without a website is unthinkable. More and more people are choosing to read information online before ordering a product or contacting a service provider. Whether people will choose your product or service depends on your presentation skills, and a website is what gives you the first impression.
The same is true for larger websites: portals, classified sites and large online stores. They must be able to attract today's discerning visitors with high quality standards, expressive design and interesting content.
As developers, we know various important aspects of website development, as well as are able to offer various ideas that make the website look better and easier to use. We are one of the few website development companies that create high quality websites at competitive costs.
Development scheme
We divide website development into several stages so that our clients can follow the progress of website development and make small adjustments during development. During development, we also sometimes offer some additional improvement, thus varying with the end result of the project. This allows you to achieve a better result than strictly adhering to the created specification and estimate, because development is a creative process in which new ideas are born, due to which old ones are sometimes abandoned.
1. Clarification of claims and unclear issues.
Before we can name the exact pricing and deadline of the project, you need to find out your wishes for this project. It is not necessary to know these wishes down to the last detail, but at least you need to anticipate what sections of the website are needed, what the visitor and the administrator will be able to do in them, as well as know something about what you want to see in the design.
2. Development and harmonization of specifications and estimates.
With the obtained information, we are able to plan the technical outline of the project and compile a development estimate. At this point, we are also aware of our workload so that we can plan a possible delivery date for the project.
3. Advance payment and conclusion of the contract.
If our estimate satisfies both parties, we create a standardized website development agreement, which we agree and sign. Upon signing the contract, we hand over the advance payment invoice, which must be paid within five working days. The amount of the advance payment depends on the amount of work (for larger projects we also divide it into several payments).
4. Design development and coordination.
All information with the specification is passed on to the artist, who further creates the website design. The design is agreed with the customer and corrections are made if necessary.
5. Website design structure creation.
At this stage, the development of the website at the code level already begins. Structure code is generated using HTML and CSS programming languages. At this stage, nothing is working on the website yet, but you can already move through the sections of the website and see what they will look like visually in the end.
6. Website programming.
The most complicated part of website development. At this stage, the client-side functionality appears on the website, and the website administrator tools are also integrated.
7. Testing and filling the website with information.
Time to test and complete the website. Unless otherwise agreed in the contract, the content of the website is created and entered by the customer. The same applies to the insertion of photographic material. At the same time, the website is tested and errors are caught for an ideal end result so that the website can be published.
8. Transferred project - acceptance / transfer deed and payment of the final amount.
The testing is successfully completed, the acceptance / transfer deed is signed and the final development invoice is issued. After paying the invoice, we transfer the finished website to our or another specified server. At this moment, we also attach the website to the name of the customer's website. After the project is handed over, we monitor it for a few more months and correct any errors if they are not caught in the testing phase.
We adapt this scheme to most of the websites we develop. It has proven itself in both small and large projects. Our customers also appreciate this systematic approach very positively. In special cases, we deviate from some points in this scheme, but there is a separate agreement.
Our offer
There are practically no technical and knowledge limitations for our team, this guarantees that we can develop websites of any complexity and type. You can get acquainted with the detailed offer and positions in the "How much will it cost" section or by contacting us using the Contact form
Administration systems - which is better?
What makes this better than others? What can be done about it? Such questions should be asked of each system before choosing it, because in today's world there are so many and the differences between these systems are not even known to the developers. How not to confuse the customer?
I would like to distinguish two types of systems:
Open source systems - this means that the coding of the system is viewable by any developer. These systems can be found, downloaded and changed on the Internet.
Closed systems - as the name suggests, this system can not be downloaded by anyone. These are made by larger companies as their own product, offered only to their customers.
So what are the pros and cons of each type of system?
Let's start with the open source solution - if the system is freely available, so there is a security risk, because the security coding is known to any developer, so the vulnerabilities are also known. Another important factor is the speed, flexibility and size of the server. It should be understood that these administration panels are designed to fit as many websites as the developer could create, so there are a lot of redundant files, functionality and options. On the one hand, it is not bad, but if we look at speed, it is not without negative trends. We have also noticed that it is difficult for the clients themselves to navigate the tangle of administration panel options, and not without reason.
Flexibility - this is more of a developer's problem, but as we know, if it is difficult for a developer, then the required price also grows. Because these systems are very large, it is hopeless to navigate them at the code level. If you need some unique functionality that is related to the rest of the system, you have to spend much more time than you would with a closed system. And the more such improvements are made, the harder it becomes.
Closed source solution - Does criticism of open source solutions seem to mean that the closed source solution has all these points in the best order? Yes and no - it all depends on the person or company that created the system. If it is designed qualitatively, then this solution will definitely be faster, more convenient to use, more flexible and will take up much less space on the server, but it also has its drawbacks. For example, with such a system, development costs will be higher, because if in the open source solution the administration panel is like a big box with Lego, then in the closed system any additional functionality must be added at the code level. It is not for nothing that I mentioned the knowledge of the developer - a closed source system can be created worse in terms of both security and speed, so it is desirable to choose a quality developer with his system.
So if you want a cheaper website that will probably need to be completely redesigned someday, as well as if the number of visitors will not be large and you are navigating different computer systems, then an open source solution is for you. On the other hand, if you want a quality solution that may cost more in the beginning but last a long time, then a closed source solution is what you are looking for.
YAM CMS - Our administration system, which we use for all our projects. It is a closed source system, because we believe that quality is the most important for any project in today's competition. YAM CMS has been in existence for more than two years, it is constantly improved in terms of security, ease of use and functionality, thus improving its performance on both the administrator and the developer side. When we integrate this system into a new project, we carefully select only the functionality that is needed for the respective project, so there is nothing superfluous in the administration panel, it is convenient and clear.
YAM CMS - we know well, and judging by similar products, we can safely recommend it to our customers, because so far, everyone has been satisfied with how it works.