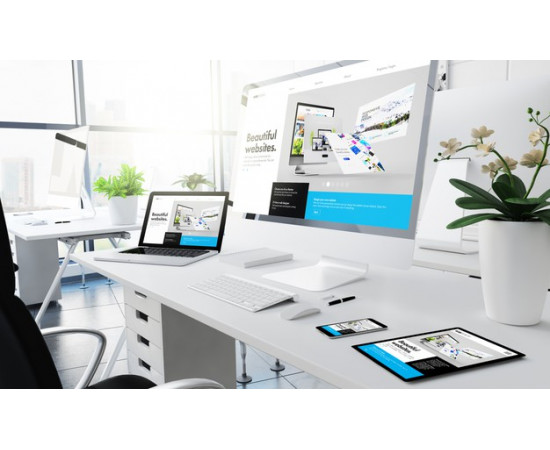 Website creation, website development and web design.
We offer professional website development and design, which will definitely not leave you indifferent.
We are a team with a lot of experience that has developed simple business card websites as well as complex online stores and portals. We also offer hosting services, website maintenance, domain name registration as well as SEO web page optimization for google search engine.
Website creation
We offer professional website creation, fast and high quality. Development of all types of websites and web design at an affordable price, directly for your company. Read more Website design
Website design
We have a lot of experience in creating a design, so no matter how simple or complex the project will be - we will be able to provide a solution that will meet your requirements. Read more Logo and business cards
Logos and business cards
Paying attention to even the smallest details, we will create a high-quality logo that suits you, a business card that will be able to create emotions and bring a good image of your company. Read more Creating advertising banners
Creation of advertising banners
YAM knows how to properly create advertising banners, which will be able to significantly increase both the number of website visitors and the company's income.Read more Hosting services
Hosting services
We offer all types of hosting services, we will help with domain name registration as well as website maintenance. Read more SEO services
SEO services
SEO optimization allows you to rank your website in higher positions (Google, Yandex), according to certain keywords that will attract more customers.Read more
Website development Web design from YAM - a complex approach to solving tasks
An effective business and virtually any industry in today's society is simply impossible to imagine without your own website. Tasks can be different - advertising, customer information, surveys, etc. There is no point in creating a simple, banal website. "Page only because of the page" is a waste of time, money and effort. Creating a website allows you to stand out from the competition, so why create a banal website? Therefore, web design, website development and all website concepts must be executed professionally, necessarily with a record of the specifics of the business, the specifics of the target audience and market trends. Only with creative work can the required result be achieved - attractive website design, effective work of the page, which makes visitors come back again and again. Despite the widespread prejudices, we dare to say that website development and accompanying web design are now affordable. You will not encounter serious expenses of your company - creating a website is a sufficiently democratic service. The Internet has become sufficiently accessible to everyone, website design is an important service, so we are always ready to offer interesting discounts and loyalty programs to customers. We always try to approach each project individually, in order to achieve the maximum results without any doubt, necessarily with respect to your wishes and financial possibilities.
Website design Website design - the benefit of cooperation with YAM.
- Individual approach only. Web design and accompanying services can be effective and successful only in cases when specialists anticipate individual project characteristics, field of activity, audience and other mandatory criteria.
- Integrated services. Website creation - one of the most requested services of our studio, the offers available on it are not limited. Including it is possible to develop a complex website, support, development, optimization, complex specialist consultations.
- Huge experience in the field of modern web-development. Website development is one of the priorities of our company. Over time, significant experience has been gained, which is positively reflected in the quality.
- Efficiency of work execution and mandatory observance of deadlines. We understand well how important it is for today's business to meet deadlines. Therefore, we always try to meet the set deadlines, website development is completed as soon as possible.
- Democratic prices and other loyalty programs for regular customers. We offer a wide selection of various discounts, promotions, loyalty programs, for which we value each of our customers, we are interested in long-term cooperation.
- Striving for an independent process and improvement. Website design, website creation - we have managed to achieve great success in various industries. But we do not plan to stop at what we have achieved, continuing to improve with our customers' wishes in mind.