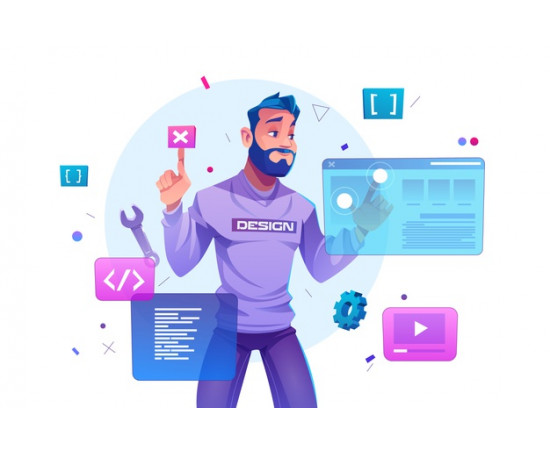 Website development| Ecommerce development | Consultation starting at 0.01 €
The concept of a website is, in principle, crucial, because its success or failure depends on the steps taken immediately after the idea for the website is created. Next, you can either start something and hope that it might succeed or do a little more work, and plan what and how to do the right thing to meet the requirements of the company's or individual's target audience. This process is called website development.
The concept of a website is one of the most important components in creating a successful website. If a website is completed, but needs to be redesigned over and over again just because it doesn't meet the requirements of the target audience or the goal set by the company, the lack of a website development concept is likely to be to blame.
If the website needs to be redesigned for technical reasons, it is less serious than if the created website does not correspond to the ideological level, because the concept of the website has not been developed. Technical changes to the Website will be required from time to time to make design improvements, redesign the Website or create a newer version. However, in these cases, the website may not need to be completely redesigned, and if it is conceptually incorrect, the work will need to be redone.
Most websites are created without much prior planning and then designed to look beautiful, with an emphasis on the development of various additional elements that are not really functional for either the potential customer or the company, because such additions are not profitable.
Therefore, developing a successful and full-fledged website concept is extremely important. The concept of the website helps all the people involved in the creation of the website to follow a plan provided by the concept, thus creating a more successful cooperation between the working groups for the implementation of the joint project.
A properly designed web page concept saves the company money over a long period of time, as well as increases the potential popularity of the website (compared to websites without the concept). This is achieved because the concept of the website is developed in accordance with the analysis of the needs of the target audience. Thus, the positive impact of the target audience is ensured by creating a website in accordance with its specifics.
The development of the website concept begins with the creation of project working groups and the analysis of the activities, target audience and general purpose of the website. Ideological projections and work schedules are created to help work groups in the project development process, as well as to promote faster project development and creation. The purpose of the company's communication is considered, and the concept of the website is designed in accordance with the goal of successfully passing the company's messages to the potential customer and creating positive feedback - concluding the transaction.