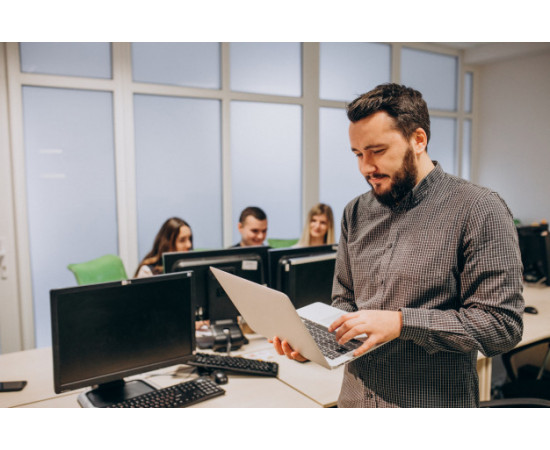 Web application development Fast, High quality, on time and on budget
You have a great Idea and you are looking for an experienced web development company to help you develop a unique, modern, functional and high-quality WEB application or project quickly, and on time and on budget?

There are a lot of web development companies, but are they able to handle a large project?
You don't have time to wait months for what can be done in a week. And you want your idea to be realized as soon as possible!

You can create a simple web-application from ready-made solutions quickly, but you have a unique idea and standard solutions will not work there!

You don't want a solution built on ready-made themes, because you've realized that this approach no longer works when you customize a page.

Don't accept late deadlines and unplanned costs? It's important for you to complete this project on time and on budget.

Do you want the application you create to be fast, stable, and flexible? So it can be used by 100 or even 100,000 users at a time.

You want to quickly build a working prototype and then develop it for your target audience. Because "No plan can survive contact with reality"
Solution for any industry
Fortunately, YAM is the solution. If you are looking for an experienced web development company that is able to create unique, modern, high-quality and functional web-pages and applications on time and on budget, you are in the right place.
From social media pages and co-financing (crowdfunding ) projects, from sports applications to news platforms - we will create high quality Internet projects for almost any industry.
Professional websites and web applications
Advanced technologies
Fast results - without sacrificing quality
Customer-focused and business-oriented
Experienced team with extensive experience
Ability to quickly adapt to changes in the process
Quality control with automated tests
Clean code that is easy to update and extend
Fast communication
Transparent, organized and open workflow
It doesn't matter what you want to create. Your requirements may change and evolve during the process. Our developers and designers are able to respond quickly, are flexible and responsible, with experience in project execution, precision in work and attention to detail.
Experience in the web development industry since 2010

YAM is currently Latvia's leading web development company with extensive experience in both local and international projects. We have worked with companies from the USA, Great Britain, Sweden, Norway and Latvia.
The company was founded in 2010 with the aim of developing high quality innovative products. Over the years, YAM's core principles have remained the same: high quality product and customer service, clean code, and functional design.

Most web developers create website ballots only on publicly available topics, but YAM is also able to develop unique solutions that can more accurately achieve the customer's business goals and are:
Stable - no more "white screens" or incomprehensible error messages, applications are on the network at least 99.9% of the time.

Secure - no more worries about a hacker hacking, stealing sensitive information, stopping a page, or sending Spam from your domain.

Flexible - the application can be changed & nbsp; Enhance, modify, and add new features and capabilities to meet growing demands.

Expandable - The app is suitable for both 100 users and 100'000, & nbsp; from a single server to server cluster solutions.