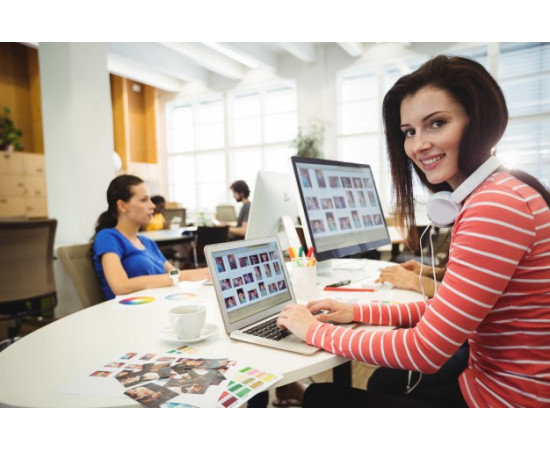 We will create a design for web elements that will help you in communication with customers and partners.
Design for your external and internal communication:

Social network profile background design

Design of presentation materials (presentations, logos, offers, invitations, etc.)
Greeting cards (Christmas, birthday, etc.)
Invoice, email, etc.
Design kits:
Twitter background

We will create an attractive background for your Twitter profile that resonates with your company's corporate identity.

Youtube channel design

To make a good impression on your casual video viewer, order a professional background design for your YouTube channel.

Facebook fan page design

The professional design of the Facebook fan page will not raise questions about whether your company is worth following it - to become its fan.

Promo email design

How to prevent customers from deleting emails you send as SPAM? Order an attractive design with tastefully and transparently arranged information.

Newsletter e-mail design

Your customers and partners receive dozens of newsletters a day in their email! You need to be noticeable among them with an attractive and memorable design!

Corporate birthday e-card

Tiny but nice - get a beautiful birthday card! Bring this joy to your partners, colleagues and customers!

Corporate name day e-card

Surprise the name day party with a nice name day greeting card. It will be a pleasant reminder that you remember him.

Corporate Christmas e-card

Save company money and protect nature by greeting partners and customers with a creative Christmas greeting e-card.

Corporate thank you e-card

It is important not only to start cooperation professionally, but also to conclude it. Say thank you to your partners and customers for working with the corporate thank you card.

Set of 3 e-cards (Christmas, Valentine's Day, November 18)

Save time and money by ordering a set of 3 e-cards today. It will only be necessary to send them during the holidays.

Invoice design

Make sure your customers are happy to pay your bills. Order your company's individual invoice design.

Offer form design

By sending your customers and partners an offer tailored to your company's identity, you will significantly increase the chance of receiving a positive response.

PowerPoint presentation design (2 slide types)

We will create an individual design of your company's PowerPoint presentation, which will definitely leave a positive impression on the audience.

Thematic logo for the website (eg Christmas design)

Create a real festive mood by creating a themed logo design. During the holidays, place it on the company's website, use it in a greeting card or similar.

Corporate e-invitation design

Order an elegant corporate invitation design so that your customers and partners look forward to the event you are inviting them to.

Corporate computer wallpaper design

Corporate computer wallpaper design will promote the loyalty of your company's employees and team cohesion.