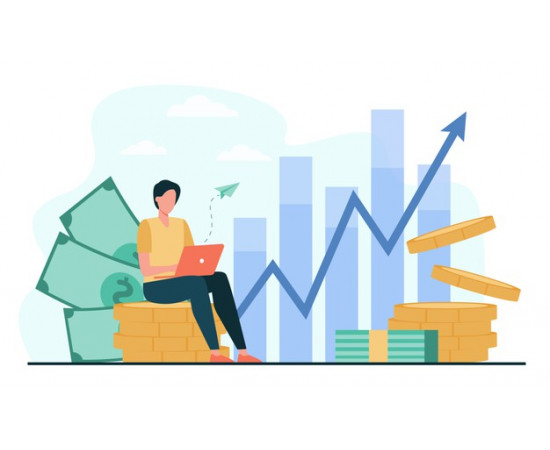 Tips - how to earn more now!
We always say that we do not make websites, etc. web applications, but help companies earn more. Big things came from small ones. And often you don't even have to make a revolution to make it happen. Here are some tips on how you can start earning more today.
1. Demonstrate yourself with pride and confidence
Which seller sells more in the Istanbul market - the one who shyly sits on a stool and waits for buyers at his stand, or the one who stands in the middle of a pedestrian flow with rolled mustache, holds his bunches in wide arms and in a full voice with a huge amount of confidence and inspiration juicy taste will make your evening with wine unforgettable?
Latvians must forget the traditional shyness and humility in the age of the Internet. You are brilliant! No, in fact you are indescribably brilliant! You have great goods! You have delightful staff! You have unspeakably friendly service! Don't hide it - tell it to everyone and everywhere (in your branches, advertisements, on the Internet) and do it out loud! Use impressive adjectives. Use inspiring comparisons. Don't be shy! Always remember the brave and loud guy in the Istanbul market who sells twice as much as a shy neighbor during the day.
2. You can earn much more with small extra extras
T. Hsieh, the founder of the most successful US shoe retailer Zappos.com, held flea auctions as a child. In parallel, he traded in homemade lemon lemonade. You guessed it - with lemonade he earned more than with fleas. Or another example - what the Statoil cashier asks you when you say your standard "2. tap, to the company "? That's right, he offers chocolate or other trifles.
The secret is that these seeming stuff can make up a significant portion of your revenue. Imagine how much EUR your turnover would increase next month if you could increase the amount of each purchase by 80 cents?
Think of small, small, but pleasant and necessary extras that you can offer to your customers. And always offer them to every customer. One offer each month.
Do you sell wines? Great, offer a bottle cap every time you start. Do you own a chain of lingerie stores? Offer each buyer a Lux fabric handkerchief. Let your imagination run wild!
3. Create subscription services and products
In the UK, a company that delivers a box of healthy snacks every week is now gaining popularity. The customer enters into an agreement online, enters credit card details, and the rest happens automatically and is repeated every week. One box costs EUR 5, so the company's annual turnover from each customer is EUR 170. But what would it be like without a subscription model? How often would you remember to go to the website every week and order the box again?
Think of subscription services and products in your business. Enter into an agreement with the customer for automatic payment (inquire about the possibilities in your bank). And let the money flow into your account every week or month.
For example, a new, inspiring large-format photo every month with home delivery. Every month a special box of white wine with home delivery (this special type is not available to store customers). Every week a new pair of socks in the mail home.
4. Sell service
What are you doing now but not asking for payment? What could you do? What will your customers want? Turn it into a great paid service.
For example, if a coach's consultation is available in the gym for an additional fee, why not have a chauffeur's consultation available in a clothing store? Do you offer to return the trouser ends for EUR 5? Then advertise it - stick this information on all your pants. Do your customers wait and read magazines in the hair salon? Offer a short shoulder massage for EUR 7.
5. Don't compete on price. Compete for benefits
Learn to state clearly in one sentence what you are doing and what the 3 main benefits are to your customers.
Forget about "solarium, lowest prices". Say: "Get an attractive tan with us, because we are safe with guaranteed new and tested lamps, we are super comfortable with spacious changing rooms, we have the best effect, because our expert will recommend the most suitable tanning cream for your skin type."
So tell me - what benefits you are selling (attractive tan, not a tanning bed), why choose you (customer benefits, not low prices).
6. Build a customer database and create repeat purchases
Organize campaigns and activities where you can get customer contact information, create social network profiles and grow the number of followers - build a customer database. Then use this database to inform you unobtrusively but regularly about your special offers and opportunities that interest your customers.
For example, if you have a client who has come for a back massage twice, they may be interested in the fact that this month you have a 40% discount on general body massage.
Imagine how much EUR you will be able to increase your turnover if you make half of your customers make 30% more purchases a year than they do now?
7. Address partner customers
The law is here - a non-competitor is a friend. Find companies with which your target audience overlaps, create joint offers and inform customers from both databases. This will give you free access to your audience for free.
For example, if you are a lingerie chain, it is definitely worth addressing the customers of the jewelry chain and vice versa.
Organize joint promotions, send information about these promotions to customers from both databases, put them on the websites of both parties, publish jointly paid advertisements - you will get twice the effect at twice the cost.
8. Train your salespeople in sales
You may not believe it, but in Latvia the work of a salesperson in most stores is still limited to "how can I help you" or simply ignoring and waiting for questions. Engage a sales expert and develop vendor negotiation scenarios that are right for your business.
For example, if the typical dialogue in your store today is:
Seller: How can I help you?
Customer: Than, I'm just watching.
Seller: Well, if you need anything, ask.
It can then be completely converted to the following:
Seller: I see that you are interested in clothes. Are you with us for the first time?
Customer: Yes.
Seller: Great, then let me show you where we find what you might be particularly interested in. What clothes are you looking for, top or bottom, or something else?
Client: Trousers, detach from me.
Seller: Here, you see the pants, but you might be interested to see also, here's their stand, because there are the latest models. And you know, even though they don't officially have a discount, I'll be able to give you a special discount because you're with us for the first time. Let's take a look!
9. Make customers your ad
There are two simple ways: First, give each customer a beautifully designed discount coupon for each purchase, called "Gift for a Friend - x% Discount", and ask them to give it to their friends and acquaintances. It does not have to be a cash discount. It can also be an additional offer (for example, when buying shoes, a second set of laces for free). The key is for the customer to pass this information on to others.
Secondly, invite your customers to write feedback about you in all possible Internet resources - in the reviews of the portal www.kontakti.lv, Facebook, Twitter and other social networks. Feedback is a very powerful marketing tool. In most cases, we make purchases based on feedback, not what the companies themselves say. How to invite to write reviews - the seller must say this in a conversation, print it on the receipt, print it on the packaging, say it on your website and in all other communications.
10. How to measure the return from the website?
There are several very simple tools for measuring how many people are contacted through your website. One example is to put a separate phone number and email address in the contact information section of a page. If you are contacted through these means of communication, you know that your website is the "culprit".
11. Start selling online.
If you sell goods, then start selling them online. If you provide services - start selling service coupons on your website and give some extras to online shoppers (such as a shorter waiting time or a free cup of coffee before the tanning bed).
Yam can create an online e-commerce sales platform for you from A to Z, provide its marketing, as well as invent and organize all logistics processes for online order processing and delivery of goods.
Internet sales will continue to grow. The question is not whether you need to start selling online. The question is how to start doing it faster and more correctly.
You are already one step closer to achieving your ambitious goals! Continue on this path!
Contact our sales project managers to find out more about how you can start earning money online: +371 26666366