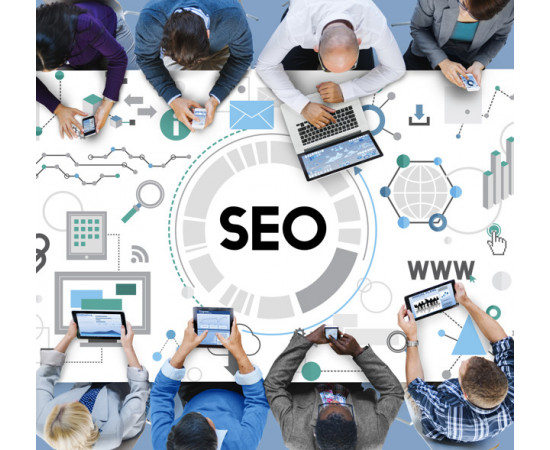 Many Latvian companies invest in SEO services with the aim of improving positions and attracting visitors to the website to a particular keyword. But not always everything is beautiful as it seems at first, and often SEO makes mistakes, because the focus is only on a few, the most searched keywords.
The problem is that on the Latvian internet there is only a small group of keywords, the number of searches of which is a few tens of thousands per month. But the real number of visitors, being in the first positions of Google, will be much lower. The reason for this is Google's inaccurate calculations when KeywordTool is displayed in search quantities, because the results also include keywords in various formalities, keywords with modifiers, and subordinate concepts, most of which are classified as long tail keywords or long tail keywords. Consequently, by focusing only on one keyword, the true number of page visitors can be much less.

As an example, we can take a mini case study with filmas.org home page visit data (data only for home page visit):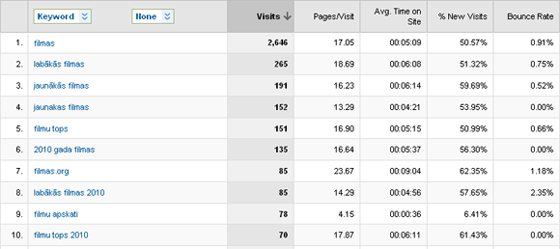 Although the home page of the keyword "movies" is in Google's first position, however, one month's attendance for this keyword is only less than 3 thousand. Naturally, the question arises, but where then are the other 70 thousand potential visitors that we get from KeywordTool data?
If we look at the attendance statistics a little bit below, only a fraction of visitors come to this page on the exact keywords, while a large proportion of visitors come from longer keywords that are not particularly optimized for the page; these are both keywords that include the word 'movies' and keywords that are in a different fold.
The total monthly attendance of this homepage from Google is around 6 thousand, so at least 50% of visitors get to the page directly on these longest keywords. If we analyze total internet site visits, then visits to the most searched keywords on the overall background would amount to a smaller percentage than visits to the long tail keywords. Because if individual pages are not specifically optimized for popular keywords, then most of the attendance can only be on long-tail keywords.

Long tail keywords

For long-tail keywords, longer keywords tend to be designated, with a search rate of 0 to 5 per month (maybe a little more). Usually, pages are not optimized for these keywords, but visitors get on the page in a natural way. Primarily it depends on the amount of content on the page and the underlying concepts and keyword modifiers contained in that content in relation to the particular niche or topic of the article.

How many visitors are able to provide long-tail keywords?

According to Experian's Research, long tail keywords provide visits to around 70% of internet sites. True, these data were obtained when assessing the total internet traffic, however, this does not mean that we could not obtain such a proportion when analyzing our website visits.

Search Demand by Experian via Seomoz

If you were to do an analysis in Google Analytics for each web site separately, the ratio of the most searched keywords and the long tail keywords for each page would certainly be different. Mainly it depends on the content. If the page has rich content and the information includes all aspects of a particular topic, then there is a greater chance of getting a targeted visit directly to the long-tail keywords. If the page has little content, then, accordingly, the visit will be only on those keywords to which the page is specially optimized.

The following fact is also interesting: a visitor who hits a page on longer keyword phrases (including long tail keywords) is more valuable and relevant to a particular page. The rationale for this is: the concept you are looking for is much more precise and targeted, so it is more likely that a visitor will find what you are looking for directly on this page. The same goes for the conversion percentage, for longer keywords this conversion % is higher (more on this can be read in the RankPay blog).

Optimization

When faced with an SEO theme it usually goes about optimizing on specific keywords, however, this does not mean that it is impossible to optimize well on long tail keywords. True, we are not able to predict what in the future someone will type in the search engine and include this keyword in one of their articles. However, we can create a list of subordinate concepts for each page and make a logical division of concepts that would correspond to the given topic, thereby increasing the chance of finding us.

Logical division of concepts and subordinate concepts

If, for example, we have a page about online stores and the visitor gets to that page for the keyword 'online stores', then that does not mean that the visitor will find what he is looking for. The concept of 'online stores ' is too vague and does not say much about the interests of the seeker, and there is a rather weak link between the interests of the visitor and the content of the website.

We can certainly clarify the topic of the page a little by including in the text information about what these online stores are: whether they are 'clothing online stores', 'Latvian online stores' or maybe 'the best online stores'. By including these subordinate concepts in the content, Google results will also find this page by multi-stage concepts, such as "best Latvian clothing online stores".

It is possible that the logical division of concepts will be a difficult task for those to whom the topic of a particular niche is alien. But for those who are well versed in this topic, it will not be difficult to make this division into writing articles, because often these relations of concepts will be formed already in a natural way. This could also be one of the reasons why articles written by the company's own employees are more valuable than articles made by external sources (outsourcing).

Pagerank optimization, etc. criteria

The content of the page is the most important criterion in the optimization of the long tail, however, it is not the only one. Equally important is the PageRank of the page, although it has often been heard that the meaning of PageRank has diminished, and that it does not make much sense to pay attention to it.

If it is necessary to get higher positions for a page for only one keyword, then the PageRank value of the page really has a small meaning. However, this argument does not apply to long tail keywords. Here the value of PageRank is very significant.

At one time, Google PageRank was created to determine the quality of content, and now, too, this criterion has not lost its relevance. As mentioned earlier, the visitor is more qualitative on more precise concepts, while PageRank of the page helps Google to decide exactly the quality of the page that the visitor has to offer. Page PageRank is important when it is necessary to improve positions on any of the keywords and combinations of those keywords in the page's content.

Just as important is Which country or region Google associates with a particular website. Mainly, the following criteria are taken into account: the IP address of the server on which the page is located, the language in which the content of the page is located, the domain of the website. But in cases where the domain is unrelated to a particular country (for example .com domains), then it can be linked to a country in Google Webmaster Tools. The geolocation of the page is of great importance when it is necessary to focus on visitors who get to the page on long-tail keywords from a particular country. Especially it is relevant if the content is in English (for this soon there will be a case study).

SEO guidelines for page optimization on long tail keywords

Sufficiently voluminous content (at least 400 words) that includes, along with keywords, the concepts underlying those keywords and keyword modifiers,

You should not forget about the main keywords of the page: higher positions on these keywords mean higher positions on the long tail keywords as well.
Page PageRank optimization:
Optimized amount of links per page.
Limited amount of outgoing links. For optimization of outgoing links, the nofollow attribute can be used.
Incoming links from pages with high PageRank
Geolocation-appropriate target audience.
Key differences in optimization when comparing search keywords with long tail keywords
| Feature | Popular keywords | Long tail keywords |
| --- | --- | --- |
| Inbound link | a Link with a keyword in the enkurtekstā | Vienvirsziena a reference link from a high PageRank of pages |
| Content | a Small amount of content, include keywords in the | Larger content of the main keywords, sub-concepts, keywords the modifiers |
| Internal links | an Internal link to the corresponding enkurtekstu | Limited to the number of links on a page (PageRank optimization) |
| PageRank | Minor | Very important |
| Ģeolokācija | Minor | Very important |
| Traffic | up to 30% | over 70%< / td>< / tr> |
When developing content, you should definitely focus on the main keywords, and only on the basis of these keywords create a logical breakdown of concepts. The same goes for optimizing this content. Optimization on key keywords will improve positions on long tail keywords as well.
SEO strategy in Latvia

Optimize for searched keywords of course that is necessary. However, how many readers will manage to be attracted with only one, two or five keywords on which the page will be displayed in the first headings? Probably very little. Is it wise to pay astronomical sums just for getting positions on a couple of keywords? What will be the return on investment?

Of course, there are certain groups of keywords on which it is worth optimizing, especially if the particular project is an online store. But often online stores get a more accurate visit directly to the exact product names, while many of these product names are already classified as long-tail keywords.

Not only in Latvia, but also around the world, more and more funds are invested directly in content development. It is the content that is the base element in the strategy of attracting marketing, since it is possible to distribute it both in social networks and to ensure attendance from search engines. Developing quality content is the most essential SEO tactic, but if this content is also properly optimized, then success in SEO strategy is guaranteed.