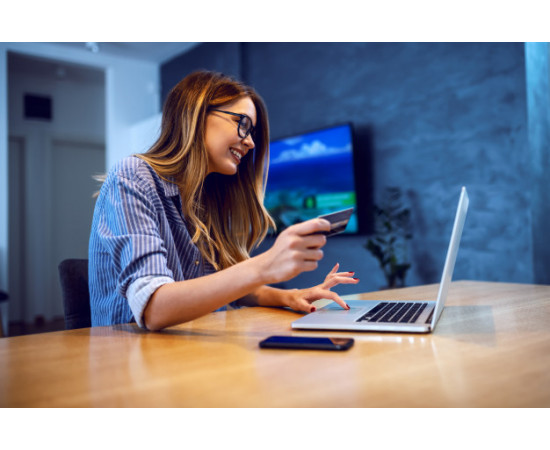 The latest e-commerce solutions.
How to sell more online? What to consider when setting up sales platforms abroad? What are the latest e-commerce trends and how do they affect consumer behavior? We provided answers to these and other questions at the seminar "E-commerce - an advantage when working in foreign markets".

Multichannel e-commerce
The traditional notion of a buyer at a computer screen no longer reflects reality. Purchases are also made from mobile phones, internet TVs, tablets or car displays.
Multichannel sites
Shoppers are becoming more educated and picky - shopping from a variety of sites, such as online stores, or inquiring about purchases and discussing them with friends on social networks.
Shopping - social, mobile, local
When shopping in a traditional store, many, especially women, choose to do it with a trusted person - safer, if you need additional opinion, and more interesting. So why be different in an online store? This is evidenced by users' habits of purchasing choices to consult friends on social networks. These habits also affect "regular" stores - for example, you can take a photo of a dress in a mobile phone store, post it for discussion on your Facebook.com profile, see if similar models are available in online stores, and note where you are. Everything in one place - socially, mobile and locally!
New business models
Shopping platforms with different business strategies - possible purchase subscriptions, closed shopping clubs, extreme simple online stores.
Online shops for searchers, researchers and dreamers
When creating an online sales platform, it is important to get into the user's skin. The entrants to the website have different patterns of behavior - searchers who will be happy to quickly navigate the product range, researchers who will evaluate the category of samples for easy comparison, and dreamers who need ideas and impulses to buy. A resourceful online store will be friendly to each of these types.
It is important to find out the local specifics
How to feel in the skin of an online store user who comes from another country and speaks another language? In this case, a lot of competition must be taken into account, so it is worth making an effort to carefully adapt the page to the local specifics. This includes a range of solutions, such as the provision of tailored contacts and office addresses to increase trust, as well as the provision of appropriate payment systems. A local partner is the best solution for finding out the local specifics, but before embarking on specific work, a market study must be carried out and an appropriate strategy developed. Various Internet tools that record the most frequently used keywords, show their dynamics and other related activities are very useful for finding out the market potential, leaders, competitors and potential partners.
Magic texts or speak one language
80% of a website's success depends on its content. How better to motivate a potential customer and speak a language he understands? It is not the products that need to be put forward, but the related customer dreams. For example, much more than a sports club subscription, people dream of a beautiful and healthy body. It must be borne in mind that simple, tasty and concise convincing information is important, and the technical details must follow. Sales are promoted by reliability - it is served by the "About us" section, which reveals the human side of the company. Support service options and independent evaluation are also important - awards and certificates, positive customer feedback.
Finally, the text should always end with a phrase that motivates you to take action: register, call, buy! An appealing and persuasive communication style should also be followed in e-mail marketing messages. We recommend using e-mail marketing in both the local and export markets, starting with a fair self-assessment, precisely defining the target audience and choosing the most appropriate marketing communication model.
The power of social media - whether and how to use it?
The media are not social, they are people. Therefore, when participating in these platforms, two-way communication must always be taken into account, as well as the employee's time resources. You must first listen to what is being said about the company and / or its products and services, then actively engage with its content. It is very important to regularly measure the effectiveness of communication by determining specific indicators, such as the number of visitors to the website or the actual store.
In order to determine whether a company really needs communication on social networks, it is necessary to evaluate the target audience and its habits, which are likely to provide the necessary answer. On the other hand, when thinking about export markets and creating communication in several languages, it must be remembered that it is similar to maintaining several brands - in this case, additional resources must be provided.
Delivery - part of a successful sales strategy
How to organize cost-effective and time-efficient delivery of goods, especially if it must be provided to online store customers abroad? We recommend not to surprise yourself and the customer - to plan logistics costs in time, anticipating the most advantageous chain model. It is very important to choose reliable partners, desirable feedback from other customers. To save time and staff resources, electronic data exchange systems must be used - they are simple and easy to use, as data processing is standardized and automated.
What rakes not to climb?
In sales, including e-commerce, the most common mistakes are made in planning and budgeting, choosing the business model, market and sales channels, creating, developing pricing policy and marketing activities. Therefore, web analytics plays an important role, it is important to define business goals and segment the audience, improve the conversion rate and return on investment. James Leasons, the all-round manager of Webmarketing LTD, who shared his experience of selling detergents online, is also convinced of the importance of the evaluation. To create a sales platform, it is recommended to choose reliable partners and always important - to measure, calculate, optimize.