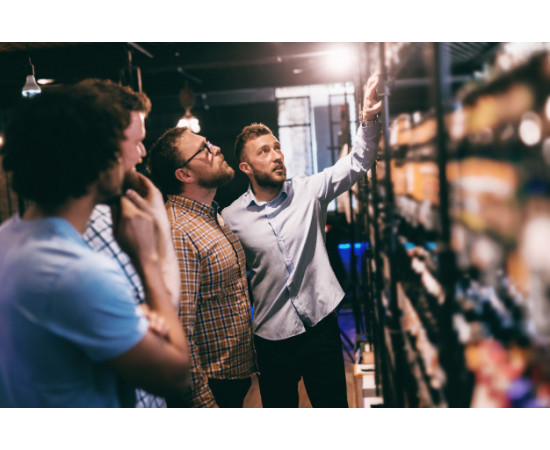 How to create your own grocery or alcohol online store?
We work so that the website of our online store provides support for your business. We believe that a well-designed website should bring tangible benefits. In the Internet age, websites can attract new customers, fans or partners. As well as to facilitate daily work, reduce expenses and increase turnover.
Websites nowadays are no longer just static texts and beautiful pictures. The website must be dynamic and lively, display up-to-date information and provide its visitors with what they have come for. That's why our websites have a convenient content management system that allows you to supplement the website with up-to-date information, images and videos. Also provides communication with site visitors.
What can an online store website do?
A website is a modern advertising tool, as well as a tool that can be used by both site visitors and its owners.
Here are some ideas for things you can do with a website:
Attract new customers who are just still looking for your goods or services
Provide answers to frequently asked customer questions so that your customers don't bother you with the same questions
Register regular customers, send them special offers or even let them keep track of the accumulated bonus points
With what to start?
In order to successfully create your own online store website, we need to know as much as possible about the website, its potential visitors and goals. We would love to hear from you at our office or at your office or by receiving an e-mail from you.
With the help of our experience, we will also be able to give you advice on how to better position you in the Internet environment. What keywords to use to find your website in Google, Yahoo and Bing search engines.
For best results, we encourage you to consider the answers to the following questions:
Who are the potential website visitors? What will they want to find on your website?
What do you want to achieve with a website? What results do you expect after launching the website?
How will your potential customers search for your website? What words would they use to find your services?
Design
Website design is what sets your website apart from others. It must be unique and at the same time familiar to visitors so that the website stands out among others, but does not confuse its visitors.
The website design of the online store is created in close cooperation with our graphic designers, our programmers and customers to come up with the best solution.
We do not recommend using a lot of Flash animations on a website, which often makes page navigation difficult and adversely affects search results on Internet search engines such as Google.
Online store SEO and search engines
Although it is widely believed that a few tricky techniques can help a website rank high in Internet search engines, in practice such techniques do not produce lasting results. Achieving long-term results requires constant work with the site's content, partners and social networks.
SEO is probably the most effective way to get more visitors and new customers without incurring additional advertising costs.
We design websites so that they are easily accessible to search engines and linked to social networks, as well as provide support and recommendations for website advertising.
What is needed for an online store website?
In order for a website to always be available on the Internet, a website needs a server on which to place it. Nowadays, there are many companies that offer server rental services. Renting a server is usually more profitable than buying your own, because the server needs regular maintenance and attention.
The following servers are commonly available:
Shared server
The server is used for several websites at the same time, without sharing the load between them. The cheapest solution, but is suitable only for websites that will not have a lot of traffic.
Virtual private server
Server resources are divided into equal parts, each website has its own guaranteed part. The optimal solution is suitable for both small and medium-visited websites, up to thousands of visitors per day.
Dedicated server.
A whole server is dedicated to the website. Solution for very demanding pages that require additional resources, a much more expensive solution.
Cloud servers
The website is powered by multiple servers, allowing you to increase the available capacity during peak hours.
Website prices
The price of the website is determined by the specifics of the desired design, the required functions and the amount of content that must initially be placed on the website. If you want to know the approximate cost of the website, please contact us.