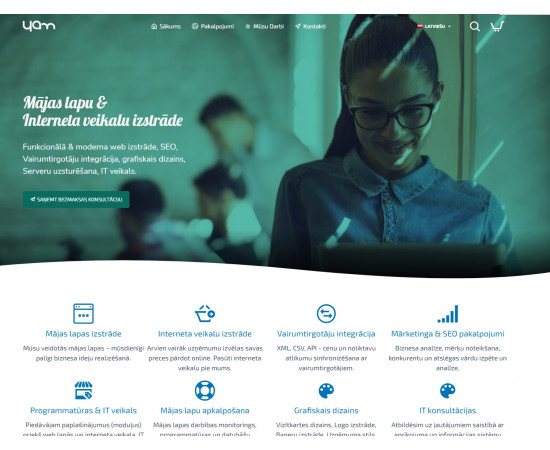 Greetings! from the website development agency YAM.LV
Welcome to our updated website! Many do not know that this is already the fifth version of the website. Each time we wanted to insert more text because we thought it would be useful, but over the last 10 years we have had to draw certain conclusions, get rid of everything superfluous and focus more on the quality of services.
We are most pleased to realize that we will no longer have to tell customers that our website is not complete because we simply do not have time to do so. It used to be. Most of the manpower and time was devoted to order development, but it lacked time for itself.
Time went on and we grew. It is not solemn not to take things to the end and as a result, we announce the launch of our new website with solemn applause!
The website has now taken on a new modern look, but the inner essence is more important than the external look. You could start talking about quality and processes here, but you would not want to spoil the festive mood with business negotiations. It is better to briefly outline exactly what can be found on the website.
In essence, almost all websites are similar. Most people post information about themselves, their services, processes, sample their work, write blogs and praise themselves on their pages. You will be able to find all the same on our website. But we will do more to share useful materials, such as sample contracts, sample terms of reference, information on Internet marketing, online business, and more. You, our customers and supporters will be able to use it all.
And more. Our team of professionals will be open to communicate with you. We will try to share our experience in order to tell you the information you need, give advice, help you decide which web page is right for you and whether you really need it.
Make you a good website