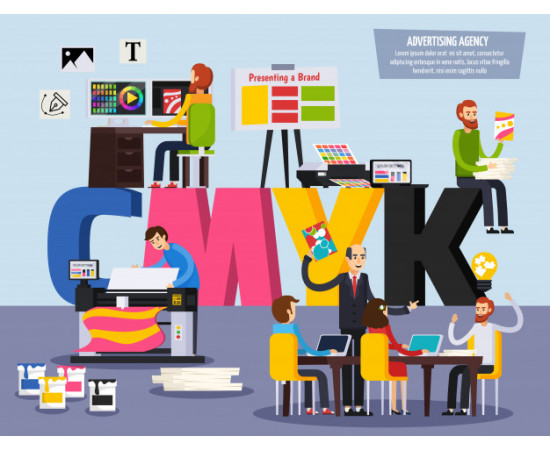 Graphic design, layout, preparation of print files
Graphic design, layout services and file preparation for printing created by us:
We are no stranger to the graphic design of business cards, booklets, forms, envelopes and other printing products. We create it in close connection with your goals and technological standards. Our graphic designers will create a unique design for any printing product.

All our graphic designers and layout designers are graduates and have gained extensive experience working as REPRO and CTP operators, as well as mastering other printing cycle processes. Therefore, we try to carefully participate in the design and layout, so that further processes can be qualitatively implemented.

In working with the client, we promote its understanding of the difference between a computer monitor and the finished product, between a professional approach to the preparation of print jobs, technical layout and incorrect solutions "around the corner". Layout is a very precise and knowledge-intensive work process. Our graphic design and layout services will definitely be based on experience, careful approach and responsibility for the end result. We work only with professional software - Adobe Illustrator, Adobe Photoshop and Adobe InDesign.

Pre-printing process - graphic design and layout:

Let's start with the fact that two things have to be distinguished - design and layout. The creation of graphic design is a creative process that later meets layout, which is no longer creative, but technical work and limited by many technological standards. These two concepts must be very cohesive so that the design does not become qualitatively feasible in the intended printing technology.

Preparation of correct print files (pre-printing process) is a well-thought-out technical layout, where the work of the layout designer is correct and according to all technological regulations to process and place photos, texts and graphic elements. It's not an easy job with freely available programs that every enthusiast has installed on their computer. It is a complex process where each operation can change the appearance and quality of the finished product.

Common customer mistakes when preparing print files:

Misunderstanding of color separations (RGB, CMYK);

Insufficient resolution - not required ppi (pixels / inch);
Use of unlicensed and incorrect software;
Improper use of work overrides (cutting edge reserves);
Non-conversion of fonts to curves (Curve);
Use of incorrect and unpopular effect modules;
Improper use of Overprint and Trapping functions;
Incorrect color distribution, exceeding the color coverage limit;
Entrust us with the creation of graphic design for your printing products. Graphic design, Layout and file preparation for printing is our job!