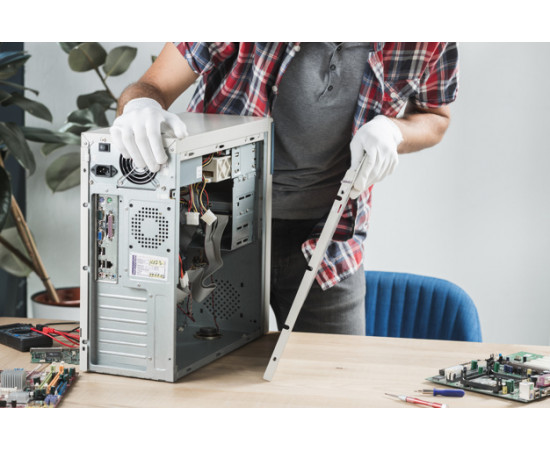 Desktop computer repair in Riga
Desktop computer repair in Riga from 30 EUR
Computer diagnostics
Computer repair.
Computer parts diagnostics / installation / replacement.

Information, data update, copying.
Upgrading or replacement of computer equipment.
Computer equipment.
Hardware software installation.
Hardware software troubleshooting.
Configuring hardware software.
Hardware software prevention.
Hardware connection to the client.
Trips to clients.
As well as other repairs.
Computer modernization
Modernization of computers, as well as assembly of new computers.

Computer diagnostics
Choosing the optimal configuration, taking into account your requirements.
Installation of components, installation.
Operating system installation.
Additional peripherals installation, installation.
Computer testing.
Software works
Software:

we perform installation, configuration, optimization of various software, installation and configuration of the operating system, storage and restoration of data, scanning and removal of viruses, etc.
OS Windows 10 installation

Operating System Restore
Computer prevention (optimization, configuration, testing, etc.)
Antivirus installation
Virus neutralization
Driver installation
Recover / delete a forgotten computer password
Data copying, storage, backup
Recovering data from a damaged system
Installation of other software
Computer maintenance and dusting should be performed if you notice that:
computer heats up;

computer speed slows down;
computer often "hangs"
"system error messages" appear frequently on your computer system
the computer starts for a long time and sometimes the computer does not turn on at all;
computer fan, louder;
Your computer slows down when you listen to music, watch videos, or work with computer programs.
the computer shuts itself off;
Computer maintenance and dust removal includes:
Power supply cleaning

Graphics card cleaning
Processor cooling equipment cleaning
Ram and vga socket cleaning
General housing cleaning
Full hard disk diagnostics
For more information call 26666366