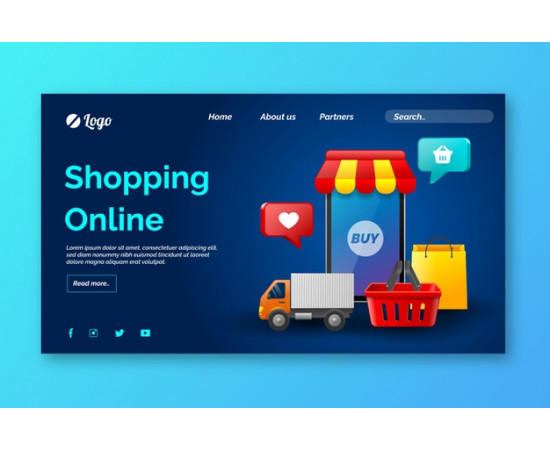 Creating an online store
A new look

Modern design guidelines

Five color designs
Adaptive design for mobile devices
More control and flexibility
Connecting / disconnecting social accounts

Possibility to change product layout: grid / table
Number of products per page
Possibility to sort products
Show categories in the middle in the middle or list products in the middle
Drag 'n Drop sorting on the CMS side
Possibility to add administrator comments to product images
Sales promotion
Possibility to create filters for faster product offering to the customer

Search engine functionality with autocomplete - when typing the search word, products are already offered in the form of a list
Promotional products, new products and related products
PROMO code generator and application of codes in the shopping cart
Possibility to purchase and generate a gift card in PDF format
Built-in XML data feeder on Kurp Osta.lv and Salidzini.lv portals
Interactivity
Product evaluation opportunity

Share on social media and receive a discount on purchases
Email registration for receiving news and stock information electronically
Registration with social media passports
More powerful
Unlimited categories and products

Performance tested on 500,000 products
Export / import the product catalog to Excel by linking the columns to the corresponding product fields
Installation time: up to 3 weeks.
Costs:

Starting from Eur 500 *, if the standardized design with the mobile version is used (the design can change color and logo at the top). If necessary, make emergency improvements according to the Customer's wishes.

* + starting from Eur180, if synchronization with the accounting / warehousing system is also required, such as Tildes Jumis, 1C, FinaWinSolis, A.V.S., OfficeLine, etc.
Starting from Eur 1200, if the design is developed individually;
The price includes training and warranty.
If you wish, you can apply for the demonstration by filling in the questionnaire.

If you need more information, please fill in the application form below.

The creation of an online store is not only relevant for stores that focus on online sales. The creation of an online store is also relevant for companies for B2B needs, so customers no longer have to send current price lists and product balances to e-mail. The work of managers decreases and productivity improves. A good online store is like a good work tool - easy to use, works well, is expensive, but pays off quickly.

We have already created more than 70 online stores! In the field of creating online stores, we have accumulated experience on the habits of online store visitors and the requirements of online store owners, how to more conveniently manage the store, how to connect it together with the accounting system, how to organize communication with customers, etc. requirements. Using this experience, we have developed a new online store custom Opencart Pro., Which also includes a Mobile solution with adaptive design.