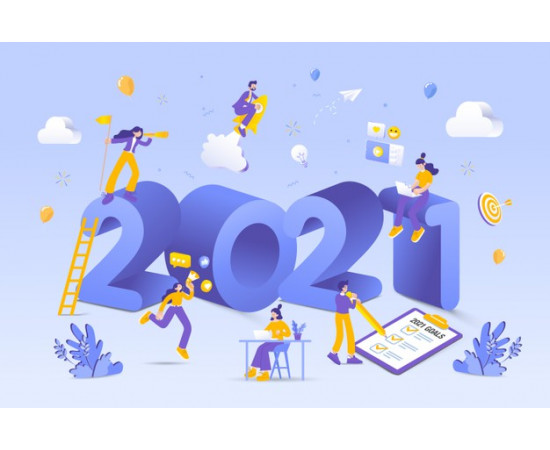 The main directions of web development in 2021
In this article, we summarize the main features and directions of development in 2021. If the development of your company is also important to you and you want to be one step ahead of your competitors, then this article will definitely be engaging and will give you an insight into new challenges and opportunities.
Creating game elements
People have always enjoyed the entertainment that comes from gambling and rivalry. It is a stimulus and additional motivation that greatly influences our actions and choices. How does all this have to do with e-commerce? The answer is quite simple - creating elements of the game stimulates additional interest and possible activity. Therefore, gamefication is an approach to stimulate the activity and interest of your web application visitors. The rapid growth of the same foursqure.com can be explained directly by the creation of a successful game, or in Latvian practice the well-known facebook.com games, in the virtual worlds of which the brands and products of specific companies are more and more often - it is a game creation and a successful marketing channel. Therefore, definitely consider the possibility of assigning competition elements to your web application, as it is a great tool to attract and retain customers' attention.
Localization of collective shopping
The explosion of collective shopping was very felt by everyone in Latvia - both companies, which, by offering their goods and services through this marketing channel, could feel the significant potential of the Internet environment, and consumers, who can suddenly buy a long-coveted product or service much cheaper. predetermined number of purchases. However, the collective shopping industry is also waiting for changes with a new direction of development - localization. It is collective shopping directly from the company's website, not the intermediary platform. If companies offer to buy a product or service on the Internet, then why not offer collective shopping promotions right on their website, without paying additional commissions to intermediaries and creating individual offers that are tailored to the needs of the particular company.
Development of video communication
Video can always tell more than written text or a displayed image, it includes a story that addresses and fascinates, which is why video has always been popular as a communication channel on the Internet. However, rapid development is also expected in this industry, which will definitely affect and change e-commerce, because if until now video was used more as entertaining and educational material, now technological possibilities have made video an effective marketing element. Imagine a very simple situation - you surf the Internet and start watching a video where you suddenly see something and imagine: "Oh, cool! I definitely need that too! " Now all this is possible, and watching the video, it will be possible to hover over the item of interest with the mouse and add it to your shopping cart or find out more information about this product.
Development of adaptive design
In 2021, interest and demand for adaptive design will certainly grow, and this has already been demonstrated in the late 2020s and early this year. The volume of demand keeps pace with the pace of technological development. The huge popularity and availability of smartphones has a great impact here, which guarantees additional convenience and freedom for the Internet user, as the Internet is available anywhere, anytime. SMART TV is also evolving, providing an Internet connection to the TV, giving it a new feature - a main media center at home with a permanent Internet connection and unlimited possibilities. The greater the number of devices with a permanent Internet connection, the more difficult it is to predict which device our customer will want to buy in our online store or browse our website - this is also the main and determining factor why adaptive design demand and development in 2021. will be one of the most significant developments in.
Contact us and find out how these and other upcoming developments can increase your company's sales so that you become the market leader in your industry in 2021!